Posts Tagged 'sons of tangra'
So the NC had a big push this weekend to try to force evoke out of cloud ring.
so far it's gone fairly well – lots of fighting – pandemic legion, sons of tangra, evoke, cry havoc, white noise and all the northern Coalition alliances joining in the fighting.
I brought Mr pew, my new megathron. I had previously thought that in a battleship slugfest I'd likely get primaried due to my name starting with A. well it certainly turned out to be true – I got about two shots off before being skmushed..
the night went a bit like this:
such is life – perhaps I'm better off as a Hic pilot or a scout.
Thankfully due to our absolutely awesome alliance battleship replacement program I'll get a new one fully fitted and insured. Got to take advantage of the high-end moon goo while we still have it.
The Fall of BoB
There was once a time, not too long ago, when the alliances of what is now called the Northern Coalition, Pandemic Legion, Sons of Tangra and Goonswarm fought side-by-side. These alliances combined to form one massive coalition with a single purpose: to wipe the Band of Brothers from existence.
The success of this is most easily demonstrated by the influence map. The following video is a 10 frames per second slide show of the influence map over the course of the past few years I highly recommend you download it in its entirety (and not just watch the preview):
http://dl.eve-files.com/media/corp/Nimtra/influence.avi
CVA alliance and the providence holders block has remained much the same, but the Northern coalition solidified with the introduction of Tau Ceti Federation and Mostly Harmless and Pandemic Legion moved into fountain.
Most importantly: The Band of Brothers was completely wiped from existence and Goonswarm moved into its place.
The unfortunate thing, however, was that prior to being displaced from nullsec, BoB was disbanded in a move similar to what has recently happened to CVA. The exception being that a BoB director deliberately dissolved the alliance and defected to Goonswarm, as you can see on the video where BoB turns into Kenzoku briefly. The reason this was so effective was the pre-dominion sovereignty mechanics: POS's in Sovereignty level 4 systems are rendered indestructible. The disbanding completely removed Sov from all these systems, and Kenzoku was destroyed before they could gain it back
Rumbles in the North
It was hoped at the time, that what remained of BoB would dissolve and dissipate. With no common enemy left, the Alliances which made up the coalition gradually terminated the non-aggression pacts that had bound them together and over the past few months, Pandemic Legion and sons of Tangra have openly aggressed against their prior allies. But it has become apparent that post dominion, we may have a common enemy yet again.
The corporations that made up the band of brothers have re-formed under the banner of "IT Alliance". I briefly mentioned that they had poked their nose into a conflict between the Northern Coalition and PL recently. IT Alliance has taken up residence in Syndicate, an NPC held 0.0 region in-between Cloud Ring and Fountain. The Membership in IT alliance has been steadily growing and growing. "Anzac Alliance" a corporation that recently joined Mostly Harmless has announced its intentions to join with their old comrades in IT alliance. With this addition, IT alliance will be only a few hundred people short becoming the one of the largest alliances in the game, second only to the bloated Goonswarm.
IT Alliance have not directly said that they will attack anything post dominion, but they have specifically noted that it will take the dominion patch to effectively wipe out the near-invincible Sov-4 systems controlled by their enemies…. and their forces are building.
One thing that is clear: The First Dominion War will be fought in the North.
—-
Other resources:
A history of BoB alliance
The Second Great War
Got my first look at an Erebus on friday night.
There was a CTA anounced for 1900 and I formed up in my shiny new Megathron Mr Pew. We formed up in the usual spot but instead of the usual Avatar or Ragnarok we got treated to the mighty Galente Titan newly aquired by one of our other FC's:
Erebus Titan with a fleet ready to Jump (by starlight)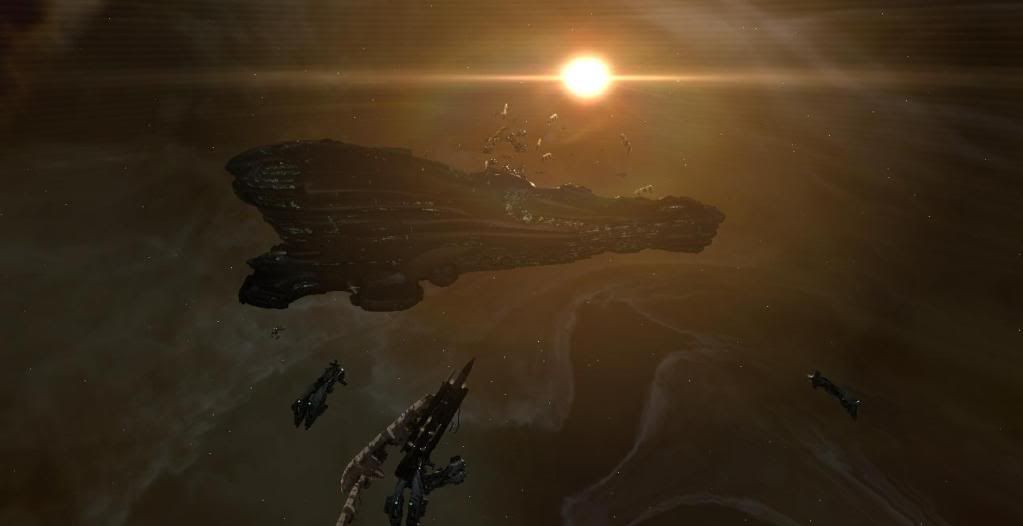 The FC told us that when it happened it would happen fast. We must all jump through as fast as possible and shoot the primary target which he said will be "obvious".
The jump bridge came up and we jumped through to G8AD, the station system that Evoke had taken Soveringty in recently.
We immediately saw a Thanatos Carrier outside a hostile POS, locked it up and started firing. it went down very fast.
We didn't want that fleet anyway.
Then the erebus blooped into existance next to us. This has happened before to me, the titan pilot may have clicked jump to rather than creating a bridge. This was the first time the pilot had used the titan in a fleet situation. We were all on edge however because of all the hostiles nearby. We were all preparing to shoot the inevitable interdictors that would come to bubble the titan, and I had just cleared my screen to take a quick screenshot or two…. Then it happened:
[ 2009.10.23 19:33:43 ] (combat) Aurora Ominae belonging to Sniperpirate hits you, doing 33310.5 damage.

Yes, well… After all that preparation it would have been a very good fleet. But there were now small particles of space dust where our logistics and light/medium support ships once were, and most of our battleships were in structure or low armour. Sorry, my effects were off otherwise that would have been a shot of a DD going off, something I probably won't see outside the test server
.
I seemed to fare pretty well – my shield skills are higher than some armour specialist pilots I guess, also some people hadn't yet got around to turning their damage control and hardners on…. I've made a habit of doing that first thing before even targeting the enemy so I got off fairly lightly. Also Mostly harmless mandate that every ship be fitted a certain way so that we can all survive at least one Doomsday Device, if it wasn't for this mandate, the entire fleet may have exploded right there. The only battleships that died were targeted by the tower.
Some hostile interdictors bubbled the titan and most of our battleships stayed on grid to kill them. as soon as the titan warped off we were out of there.
After jumping around trying to avoid the multiple hostile fleets that had materialised out of nowhere hoping to kill our titan we found ourselves in 9-4 at a safe pos jump bridge after repairing ourselves at the station. It wasn't over though. the jump bridge was out of fuel and while we were waiting a Sons of Tangra fleet came and attacked us…. we probably should have been sitting inside the pos but hey…. We got inside in short order anyway…after loosing another two battleships.
All in all, we accomplished our objective of killing the Evoke Carrier… we lost 32 ships in the process, but hey…. it turned out the titan pilot jumped into the system because the jump button was next to the bridge button, and because he heard multiple targets being called on Teamspeak the titan thought we were in a large fleet battle at a gate or something and hit the DD button prior to his screen fully loading. anyway – both the titan and majority of the battleship fleet got out safely.
Meanwhile…
At the same time a Morsus Mihi/Razor Capital fleet was attacking some Nearby Pandemic Legion POS's and had been jumped by a fairly large short range remote repping PL battleship fleet.
We got home as fast as we could and switched out for stealth bombers. This turned out to be an awesome idea. nothing plays havoc with remote repping co-ordination than mass damage on multiple ships.
There was massive lag as we got into the system with 450 in local (PL, SOT, Cry Havoc Vs MM, Razor and MH) and the entire fight happening at one spot. The layout was as the above shot. MM capital fleet on the right, PL on the left and Mostly harmless raining death down on them from above.
We started moving in and out dropping bombs on the battleships and shooting torps at anything that survived. I pulsed my MWD once but it stuck on due to the lag so I didn't do that again! For most of the fight I was tackled by the only interceptor that I could see (I swear it is my name starting with "A") , but by some miracle of lag I didn't take any shield damage whatsoever. At one point I tried to target it but it magic'd itself out to 300km, and yet I was still warp scrambled…
Things got a bit complicated. Razor put scrams on their battleships?!?

All in all, it was a good night (27 kills in 2hrs! I love bombs), we held the field and in true northern coalition fashion we outnumbered them and killed them all. Our Titan pilot is never going to live it down though. By the end of the night "warp in and DD them" was the solution to every situation that came up. Hostile newbie ship on the gate to empire? no probs, just warp in and DD them….. etc.
the unfortunate downside was that I got the final blow on two Morsus Mihi frigates (here and here) that got in the way of my bombs. but seriously… who brings an assault frigate and a rifter to a capital fight?…. a rifter!…..